Rain Man
The weather has generally been lousy for the past week. Rain non-stop. Luckily I had planned a recovery week anyway, so my training hasn't really suffered at all. My first big goal of the season is next weekend, and then two weeks after that is my "A" race, the
Cherokee Park Race
here in Louisville.
I consider Cherokee Park to be my "home turf", especially since I ride through it almost every single day I'm on the bike. Along with my usual riding compatriots from the Papa John's team (as well as a few from other teams as well), we do countless loops of the hilly urban oasis. We could ride the Scenic Loop in our sleep, we do it so often.
The race promises to be extremely challenging. The Scenic Loop is 2.3 miles with rough pavement in places, a tight downhill hairpin turn and two big ring climbs of less than half a mile each. However, the total climbing elevation of each loop is 220 feet, meaning ten laps is equivalent to more than 2000 feet of climbing. Here in the flat Midwest, that's no small amount.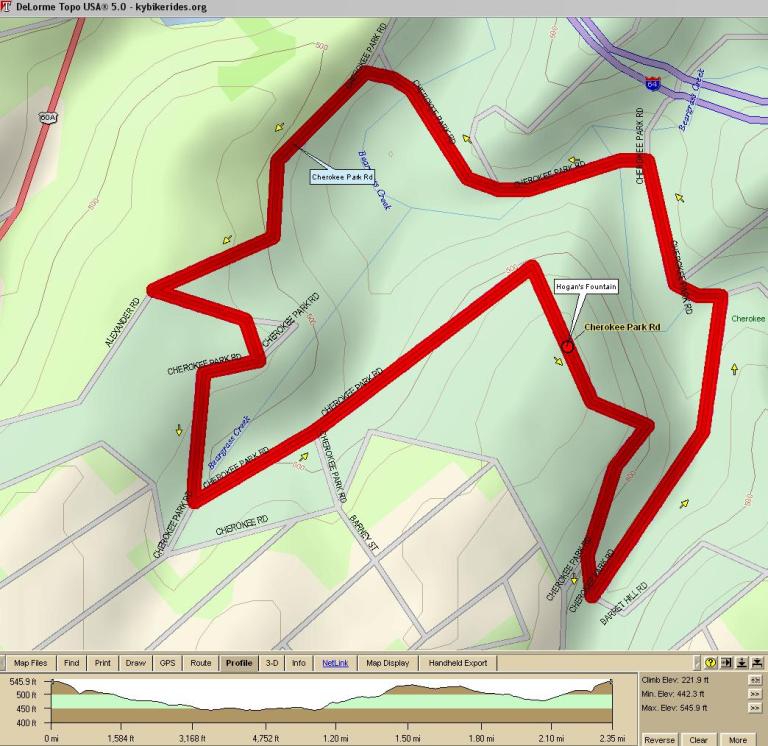 courtesy KyBikeRides.org
Luckily, the Cat 4 race is only a half hour long. It will be difficult to complete more than six laps in that amount of time, I imagine. That said, the race will probably have an average speed around 24 miles an hour, even with the climbs, since all the flat sections are really fast. I foresee either a strong early attack that stays away or a very late attack on the second-to-last climb. Those will be the tickets to victory, I imagine.
Or maybe not. Anything could happen, but hopefully the end result is me riding across the line first with my arms in the air.
Ha. Yeah right.